Top Trending
Handyman in Dubai
The Best Handyman in Dubai for all kind of home and office maintenance and repairs
Handyman in Dubai at your service
---
Handyman in Dubai brings service that provides you great relief when you are too busy or tired in Daily fixing & Repair works in your home or at your office; our professional handymen are experienced in all kind of maintenance works in Dubai; Best Hourly rates, Dedicated Customer Service & vast list of Services distinguishes us from others, we have satisfied clients from all over Dubai, from Tenants to Landlords, Offices to Organizations.
Trustworthy
Trustworthy handyman services by professional and trained technicians who efficiently complete the task perfectly.
Locally-Owned
We are a locally owned company and very much concerned about reputation. Handyman services are not only our family business; it's also our passion to be the most outstanding handyman services provider in U.A.E.
Experienced
Experience comes with practice and hard workmanship, and we are proud to be one of the oldest handyman services providers in Dubai.
Handyman Service covering all areas of Dubai, UAE
Hire Our Handyman
Interior Painting Services
Plumbing Services
Carpentry Services
Tiling Services
Did you not find the service you are looking for? No Problem! Give us a call now for all kinds of handyman and home improvement chores.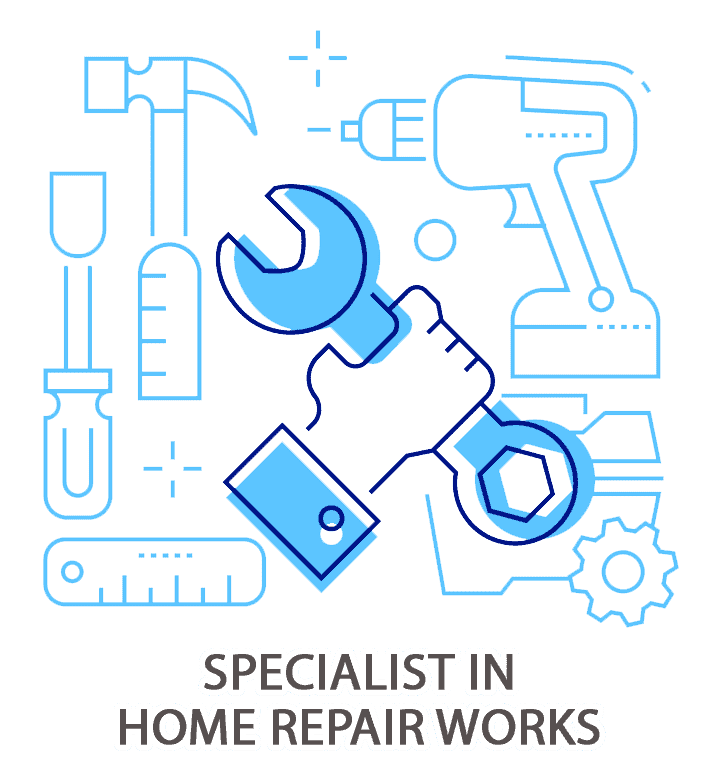 Home Improvements Just Got Easier in Dubai
Handyman in Dubai: A Service You Can Trust
There are several reasons to choose handymanindubai.com as your DIY expert or regular service provider, among which our customer satisfaction and reputation are the highlights.
Looking for Furniture Installation?
Our handymen are experts in Ikea furniture installation service; additionally, we provide assembly of all types of furniture and equipment.
Air Conditioning Repair Services
Master Air Conditioning Repair Services for Wall-Mounted, Ducted Units, Central, and Chillers AC Units
Our A/C technicians have years of experience in air conditioning repair services and provide you with the quickest and best possible solution for your ac system; furthermore, our emergency ac repair teams are ready round the clock to serve you at odd times.
Our Handyman Service is Trending in Dubai
Why choose us?
Positve Review Service
We are proud of ourselves for satisfying feedback and recommendations from our happy customers and take pride in serving them again and again.
Fastest Reach Time
We have the fastest reach time (under 40 minutes) for any area in Dubai, but we also are committed to reaching our customers at the appointed time.
Budget-friendly
We offer competitive quotes and never compromise on quality. Our Handymen are quick; hire our handyman on hourly rates for any assembly and installation works.
Supply and Installation Service
HVAC Sales, Supply, and Installation
We Also Supply Air Conditioning Units, Spare Parts, Thermostats, and Water Heaters in Dubai. We also provide replacement and installation services for ac units, water heaters, and various spare parts.
Explore
Air Conditioners
Explore our shop for air conditioners from all the major brands available in the UAE.
Browse
Water Heaters
Browse and get the best offer on our collection of electric water heaters available in Dubai.
Buy
A/C Thermostats
Buy all types of a/c thermostats, and check out our vast collection of smart thermostats.
Find
A/C Spare Parts
We have enlisted all kinds of essential spare parts for your air conditioners; check out our shop.
Ready to Book Our Handyman Service?
Call Us Now or Send Us a WhatsApp